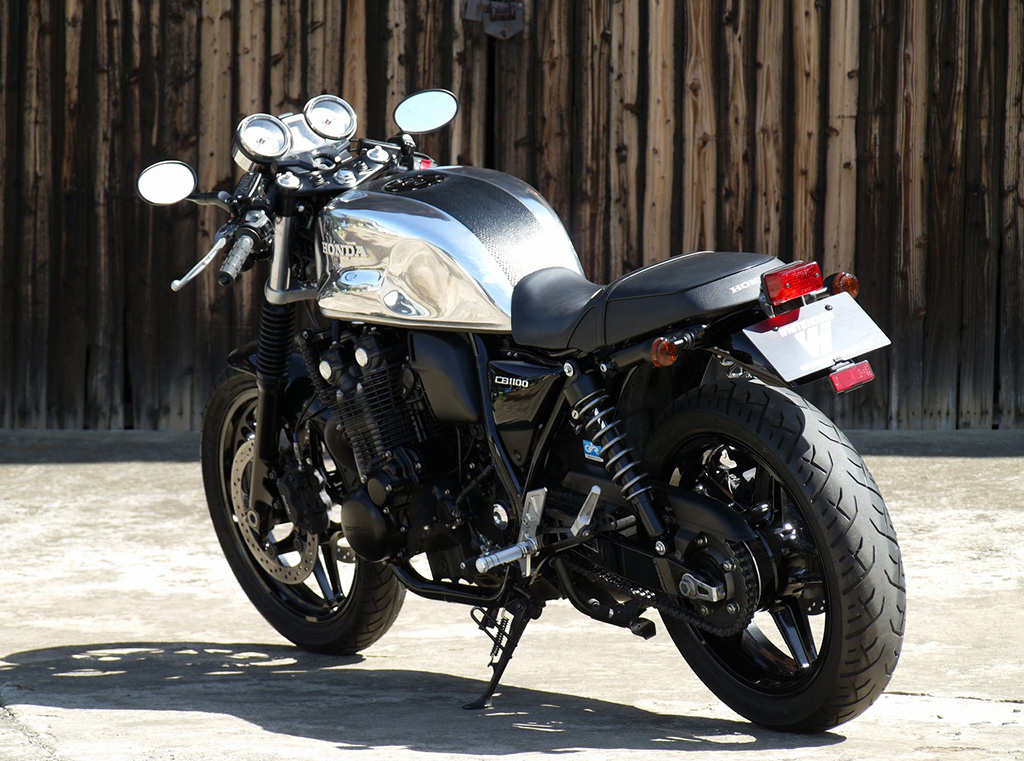 CB1100 FUGU CAFE RACER
One more thing that Whitehouse proposes is "FUGU cafe", a CB1100-base model as well. The concepts of "FUGU cafe" are: 1) The shape of trunkfish is similar to an ideal tank of CB1100 naked cafe, 2) With that distinguished features, we would like you to remember this customized motorcycle as "FUGU cafe", 3) We wish an owner of this motorcycle good luck since a globefish is called "Fuku (good luck)" and considered as a bringer of good luck. The body shape of trunkfish has superior aerodynamic characteristic and strength and enables large capacity. While being careful not to be over-designed by putting the emphasis on styling, we designed it to have a tank silhouette that can be recognized as "FUGU Cafe" immediately. Mercedes-Benz once presented the concept of the low-fuel, low-emission bionic car that they developed with the idea of "trunkfish" at "DaimlerChrysler Innovation Symposium" held in Washington in 2005. As the name suggests, a trunkfish has a streamline, aerodynamic shape, even having a boxy shape. According to them, with the structure copied the fish's exoskeleton, the bionic car achieved the improvement in body rigidity and light weighting at the same time, and they succeeded in reducing its weight by 1/3 compared to the previous structure without losing its strength and collision safety.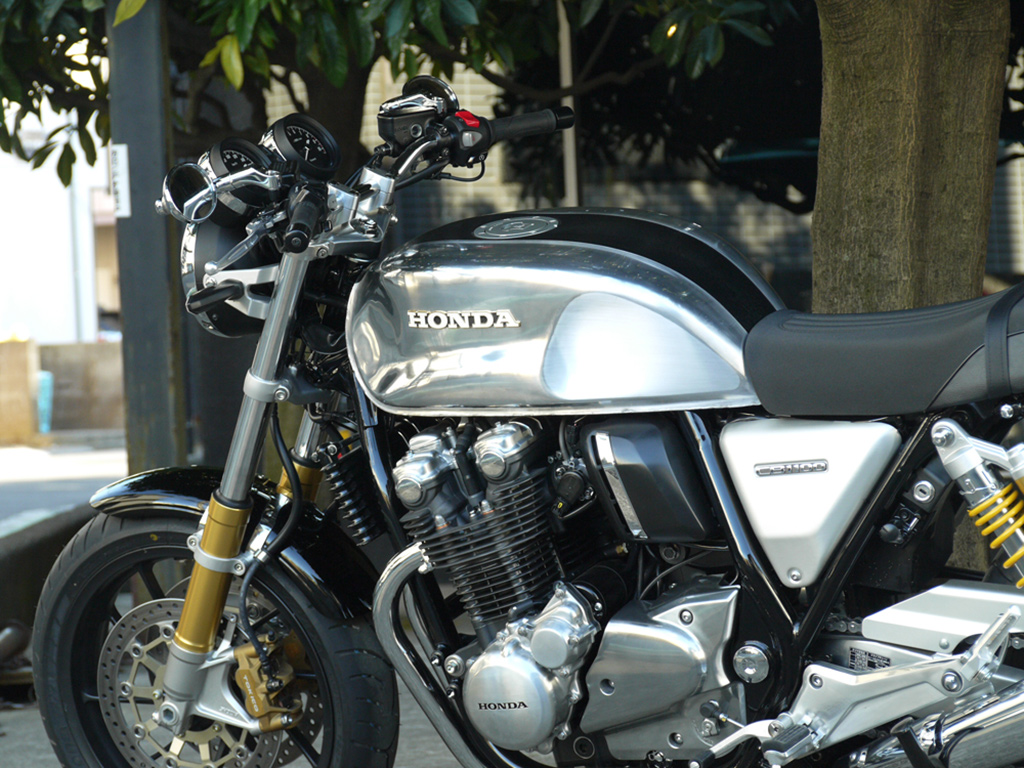 Price List
Fugu Cafe Racer Gas Tank: 300,000-Yen *Aluminum made,16 liters/4.2 gallons *including HONDA emblems.
Fugu Cafe Racer Gas Tank,Polished: 350,000-Yen
Fugu Cafe Racer Front fender,Black gel coat: 20,000-Yen/Paint:+12000-Yen
Fugu Cafe Racer Rear fender with Taillight,Black gel coat: 42,500-Yen/Paint:+18000-Yen
Fugu Cafe Racer Side covers,Black gel coat: 38,000-Yen/Paint:+20000-Yen
Fugu Cafe Racer Aluminum Side covers: 66,000-Yen
Fugu Cafe Racer Aluminum Side covers,Polished: 78,000-Yen
Fork bellows,Silicon rubber made: 18,000-Yen
Parts Information *click here for details
*distributor set up may be applied for dealers, contact us for more details.  


CB1100 Fugu Cafe Kit type-A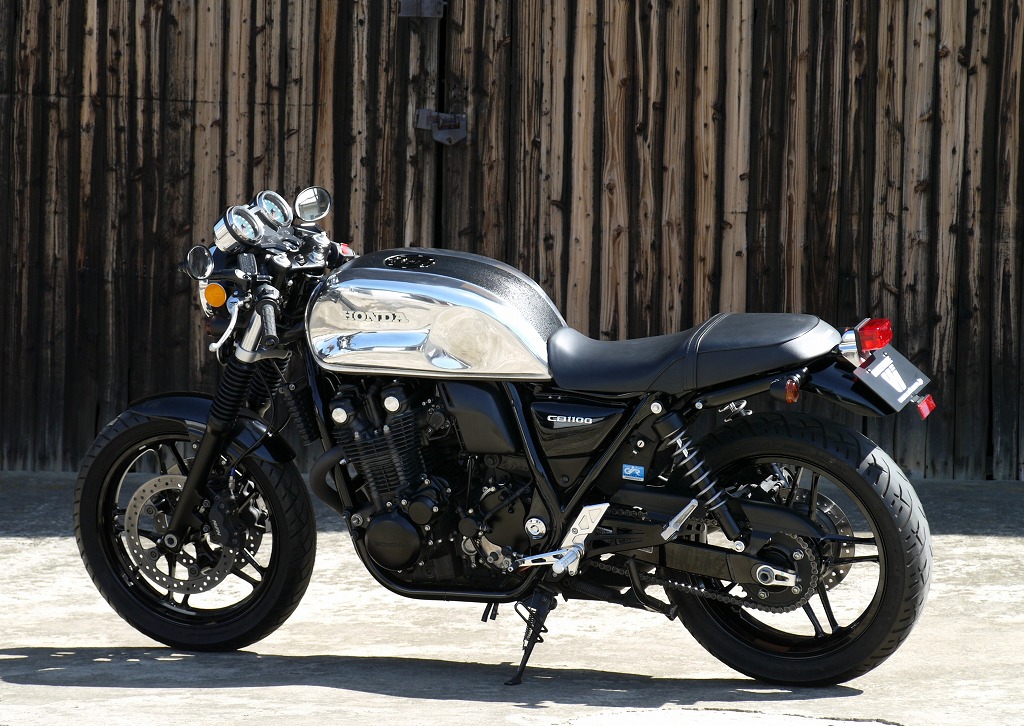 Description
Polished Gas Tank, Side covers, Front fender, Rear fender, Fork bellows
*Not including
Fugu cafe mirrors, Black: 7800-Yen
Moriwaki Stainless steel 4 into 1 black exhaust
Whitehouse original clip on handlebars: 30000-Yen
CB1100 Fugu Cafe Kit type-B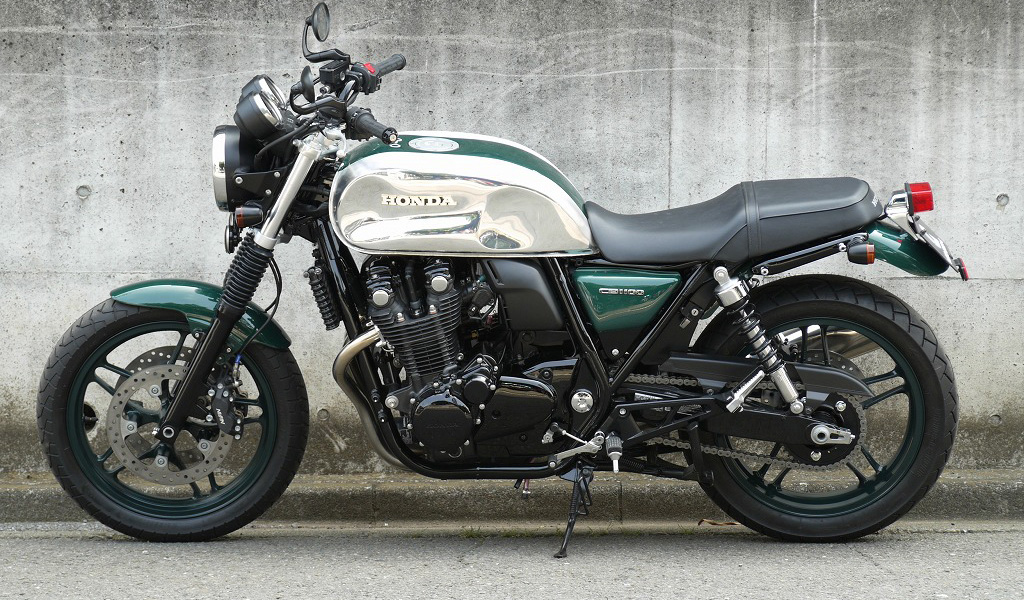 Description
Polished + Paint Gas Tank, Side covers, Front fender, Rear fender, Fork bellows
*Not including
Fugu cafe mirrors, Black: 7800-Yen

CB1100 Fugu Cafe Kit type-C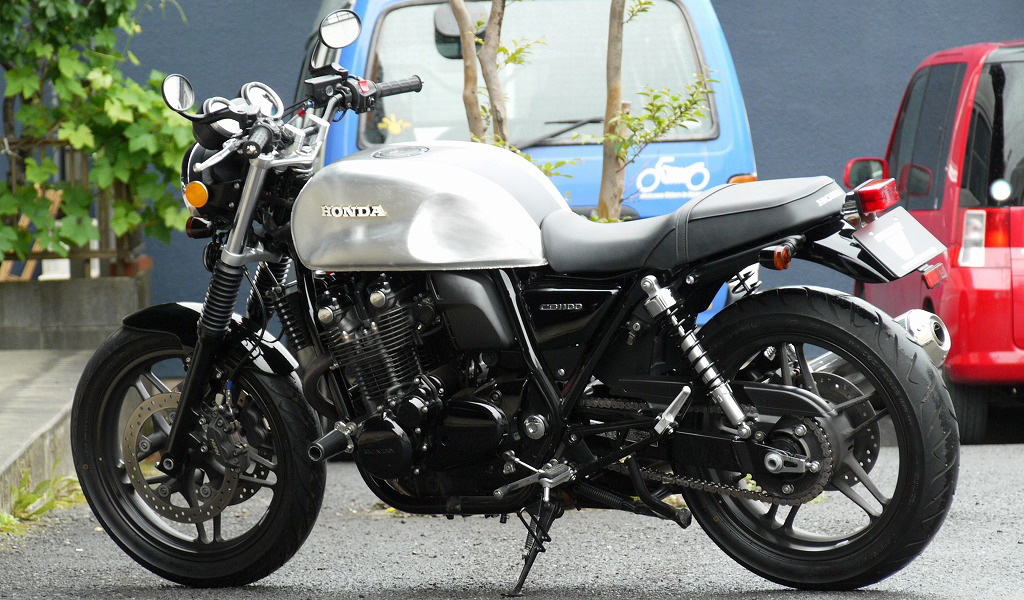 Description
Unpolished Gas Tank, Side covers, Front fender, Rear fender, Fork bellows
*Not including
Fugu cafe mirrors, Black: 7800-Yen

CB1100 Fugu Cafe Kit type-D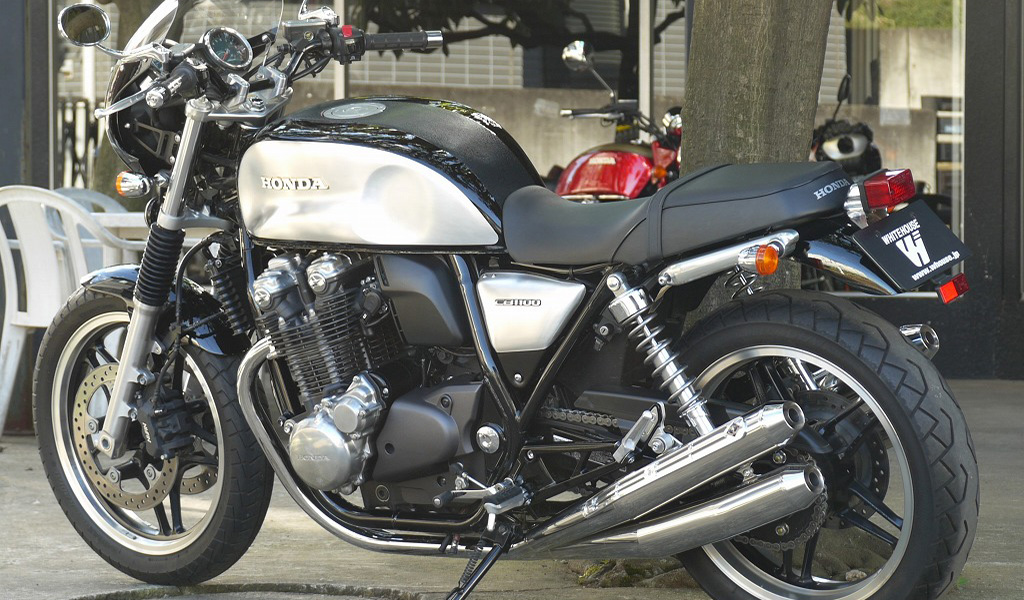 Description
Hairline finished Gas Tank + Paint, Side covers + Paint, Front fender, Rear fender, Fork bellows
*Not including
R's gear Wyvern Classic 4 into 4 exhaust
WM: Aluminum cowl
Fugu cafe mirrors, Chrome: 7800 yen

CB1100 Fugu Cafe Kit type-E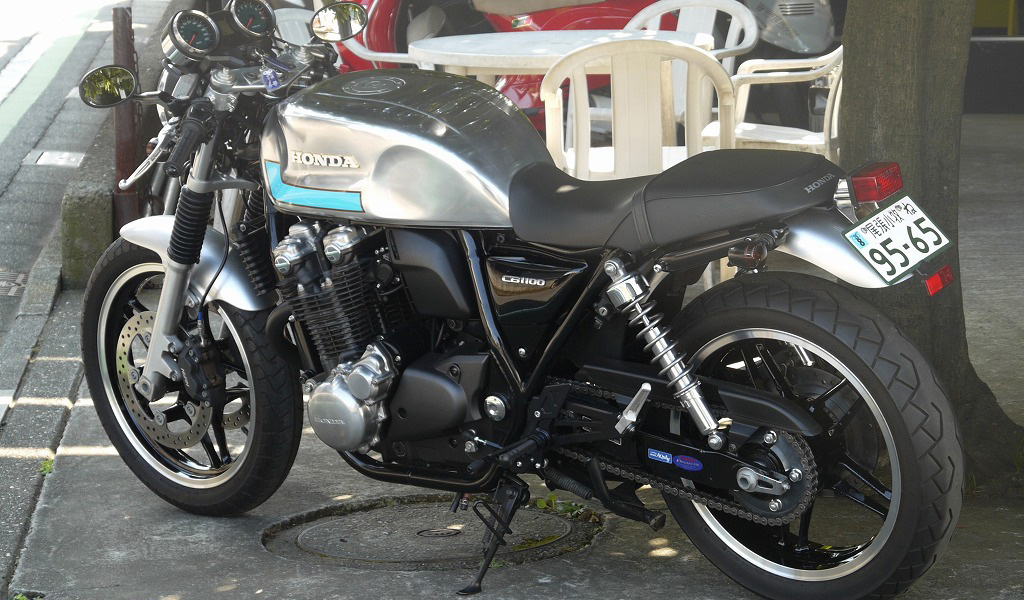 Description
Polished Gas Tank + L-line paint, Side covers, Front fender, Rear fender, Fork bellows
*Not including
Whitehouse original clip on handlebars: 30000-Yen
Fugu cafe mirrors, Black: 7800-Yen

CB1100 Fugu Cafe Kit type-F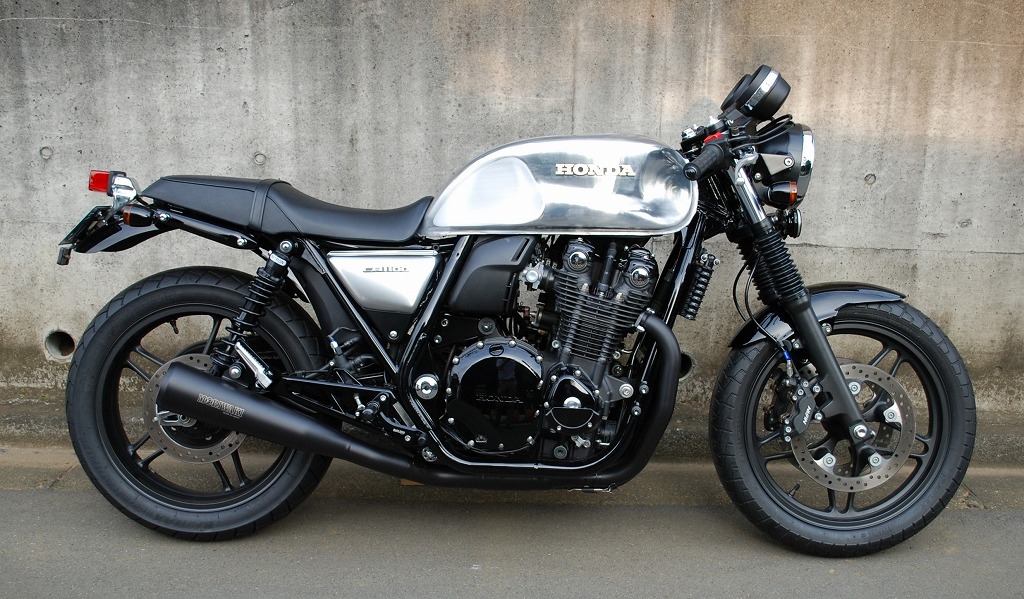 Description
Polished Gas Tank, Side covers, Front fender, Rear fender, Fork bellows
*Not including
Moriwaki SUS 4-2 black exhaust
Whitehouse original clip on handlebars: 30000-Yen
CB1100 Fugu Cafe Kit type-G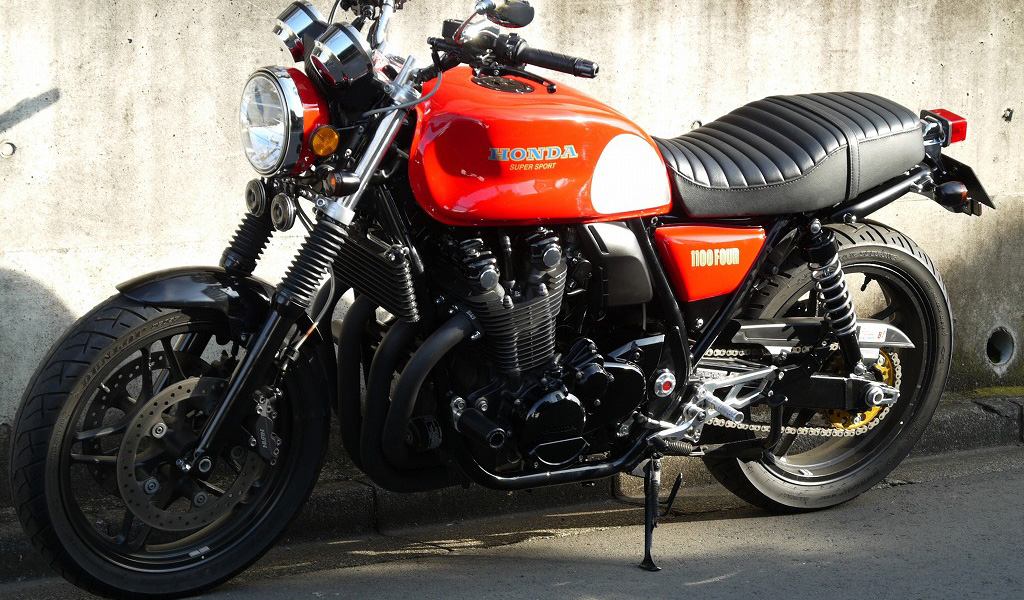 Description
Red paint Gas Tank, Red paint Side covers, Front fender, Rear fender, Fork bellows, Red headlight bucket
*Not including
Yoshimura 4-1 hand-bent exhaust
K&H Mid seat
Fugu cafe mirrors, Black: 7800-Yen