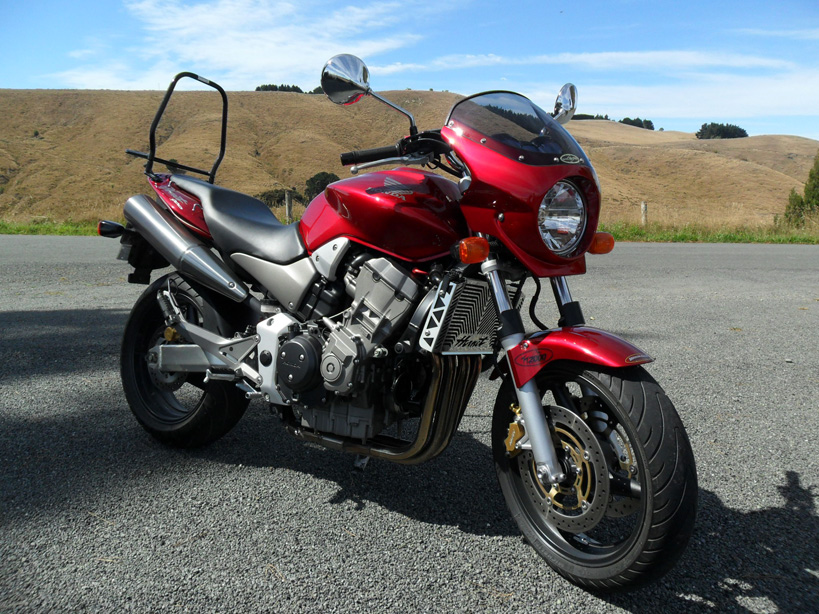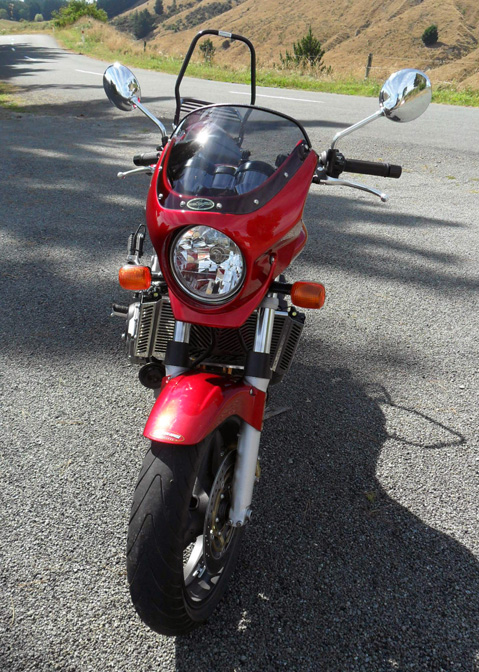 Your Name(Nickname), Country<
Noel, from New Zealand
Vehicle(Model)
2005 Honda CB900 Hornet
What have you bought here
Chic Design Road Comet 2 Fairing
Opinions and comments for the products
Honda could have made a really fine bike even better if they had offered something more substantial than just a fly-screen fairing option for the Hornet. Chic Design have done just that in my opinion! My Hornet had the Honda fly-screen fairing fitted when I bought it and although it deflected some wind and bugs, it caused severe buffeting to my head in many situations. I put up with the buffeting for a while but finally it became very annoying so I decided to search for a more substantial fairing that would also suit the styling of the Hornet, something like what I had seen on a 600 Hornet. It seemed that fairing options for the 900 were very limited until I spotted a photo of a Hornet with a Road Comet fairing fitted. So I read some reviews, checked out the web site and placed my order.
I opted for the standard smoked windscreen with the fairing painted in the factory Honda colour – candy glory red.
Takashi was very helpful and efficient throughout the entire purchase and was very quick to respond to my queries. He also kept me well informed from the time I ordered to dispatch of the fairing. Although my fairing was made to order, it arrived in New Zealand within three weeks – very impressive!
When it arrived, It was beautifully packaged in a good solid box with instructions and all the necessary parts to fit to my bike. The finish is fantastic and fitting to the bike was very straight forward with no modifications to either the bike or the fairing necessary.
The Road Comet 2 has completely transformed the look of my Hornet and the annoying wind buffeting is no more. There is now a consistent, smooth flow of air from about my shoulders up which is just fine to me.
Takashi's service is second to none and this fairing is very high quality. Many thanks Takashi!!
Customer's Place
WANTED
Please tell us your shopping experience at Samurider.Com!
This is the place to share your experience with others.
1, Your name or nickname, country
2, Your Motorcycle
3, Your purchased Items
4, Pictures (1~4 pictures)
5, Opinions and comments for the items

You will receive a special gift on your next order.
We greatly appreciate your cooperation. Thank you very much.

E-mail 24hours 365days to contact@samurider.com